Furniture Refinishing & Repair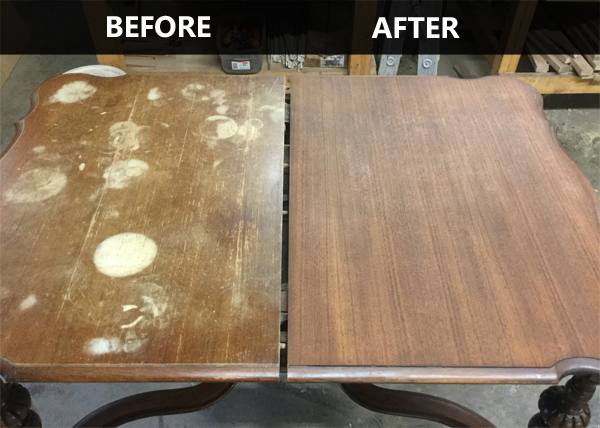 Expert Furniture Refinishing
My table is absolutely beautiful. It is over 50 years old and now looks like new!—C. Arrington
Even furniture with badly damaged finishes can be revived by our expert furniture refinishing and repair techniques. Well worn antiques or hardwood table tops that you thought were beyond repair may just need some TLC from a finish repair expert. Family heirlooms like your grandmother's dining room table or the rocking chair you rocked your babies in can't be replaced with a trip to IKEA, but they can be refinished and repaired to serve your family for many more years. If your piece is built-in or too large to move, talk to us about on-site furniture refinishing or pick-up and delivery options.
Professional Care for the Furniture You Love
The craft of furniture refinishing is highly susceptible to problems related to environment: heat, humidity, dust. When you bring your furniture to Old Virginia Woodworking it will be finished in a carefully controlled environment. The finish room here is controlled for heating, cooling, humidity reduction, and filtered-air dust control to assure excellent finish quality every time. We are not just some guys slapping finishes on in the garage. Our clients often bring us pieces that are meaningful to them, and we treat them with the care they deserve.
Sheen Matching
The human eye can detect at least eighty levels of sheen (how shiny or how dull a finish appears).  Every furniture piece arrives with a different level of sheen on the surface. We have, in stock, specialty spray finishes that make it easier to match original sheen. After applying the closest match available the finish is hand-rubbed to either raise or lower the sheen to perfectly match the original finish. Even the high gloss on an expensive piano can be repaired and matched to your satisfaction.
On-Site Repairs
In some cases it is preferable to do repairs on-site. For furniture that is large or difficult to move, built-in cabinetry or woodwork, or other unique situations, we may be able to come to you to complete the work. We are happy to talk to you about possible on-site work. Please contact us for further information.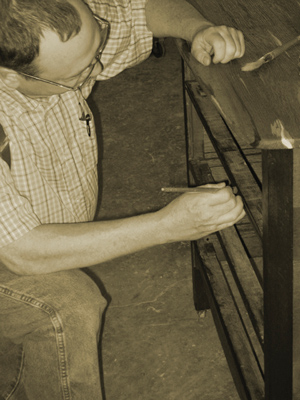 Meet the Woodworking Expert
Experienced woodworker, Don Schanzenbach, can perform furniture refinishing, restoration, and repair on your damaged or antique pieces. Your well-worn pieces can be revived for use for many more years.
I have reworked many pieces over the years including dressers, tables, fireplace surrounds, and almost any type of piece you are likely to bring in. I can perform woodworking repairs and then repair finishes as needed to make the repair "disappear." Recently I repaired the face of a cherry bookcase that had been shattered and re-glued previously by someone else—unfortunately the original repair had not been properly done. On that piece I sanded down the faulty repair on the face of the unit, stained the raw wood with dry powder dyes to match the original surrounding color, and varnished the repair. Voila, the fresh repair became nearly impossible to discover even if you knew it was there!—Don Schanzenbach
Professionally Trained in Wood Finishing

Besides many years of experience with woodworking, Don Schanzenbach, has completed professional training with the Mohawk Company for wood finish repairs as proven by this photo of his fancy certificate. That is a good thing but besides that we have direct access to professional company representatives who have endless quantities of superlative advice for any wood finishing needs. Those benefits all redound to you guaranteeing a beautiful completion to any project you bring in.