Custom Interior & Exterior Doors
A unique custom built door can add interest to your space and increase your curb appeal.
If you already have a design for an interior or exterior door we can give you a bid for building to your design. We can also draw up designs for custom wood doors to suit your space and needs.
Follow along below to see how a custom door is designed and built, and then give us a call to talk about your project.
See a Custom Door Design: Start to Finish
The building of custom doors begins with drawing a pleasing design that highlights your existing architecture and woodwork.
Since each door is unique each project begins with creating a pattern to ensure the completed door will have accurate shape and fit. For this custom exterior door project we first had to create a pattern for the shape of the curved frame. That was obtained by tracing the existing opening unto eighth-inch hardboard.
Door Frame
When building a custom door we build the frame first to ensure a perfect fit of the completed door in the frame. Once the carefully checked pattern is made we use it to make the door frame.
This frame is made of two and a half inch thick African sapele wood. This exterior door required a curved peak at the top of the door. The curve was achieved by assembling a series of short blocks into a near-curve, gluing them up, and then the curve was cut in half across the peak to give two half-moon pieces. This allowed us to get the, still heavy, pieces up onto the bandsaw and to cut the curve to the patterned shape. The two large curved pieces were then sanded. After sanding they were re-glued to each other at the peak and glued and doweled to the tops of the side jambs. A ratcheting web strap was used to pull it all together.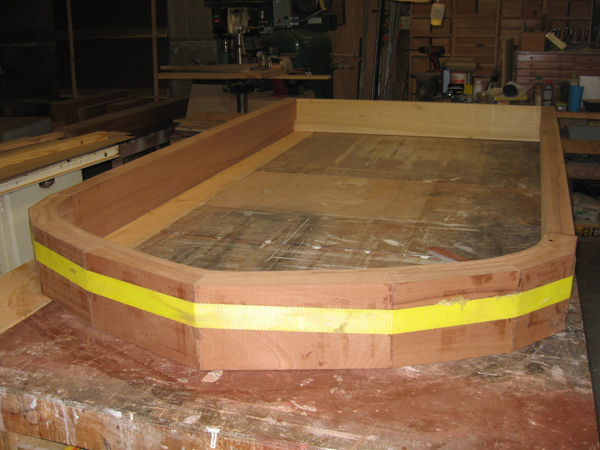 The Door
After the frame is complete the custom door can be made to fit the space. After making all the main frame pieces for this door, they were doweled with around 200 dowels and dry-fitted to make sure everything would fit together. Then a crew of three men glued the door, clamping it in two lifts to achieve final assembly. At two and a half inch thickness, eight feet tall, and a four feet four inches width, this substantial exterior door was too heavy for any individual to move alone once assembled.
Door Panels
Many custom exterior doors require panels to match surrounding architecture or interior custom doors may need to match interior woodwork. This door was designed for a stone church building. The solid wood panels for this door were machined and inserted to give the raised panel effect.
The panels are actually a sandwich with solid wood outsides and a half inch of high r-value polystyrene in-between. This keeps the panels from developing frost in the inside of the door during cold months.
Door Installation
Due to the size and weight of some custom wood doors, the installation can be quite the project. In this case the door itself weighed around 300 pounds and required four men to lift and place on its four hinges. It fit great! We installed customized weather stripping to ensure the wind and weather stay outside where they belong. This door should be good for over a century!